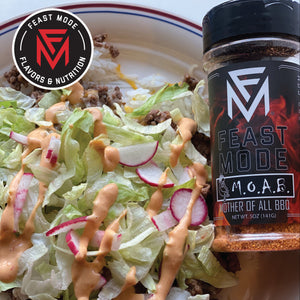 Lindsey's ROGO
This is a simple childhood favorite recipe of mine made even more fun with the MOAB Feast Mode seasoning!  It's pretty basic, and I'm not sure where that name came from, but it's SO delish and my whole family loves it!
Ingredients:
1lb lean ground beef
1c jasmine rice
2c water (to cook the rice)
M.O.A.B. Feastmode seasoning to taste
Green Leaf lettuce
1 English cucumber
5 radishes
1/2c shredded cheddar cheese
Any sauce you like - we use salsa, ketchup, ranch, "Kranch", etc.
Directions:
1. Brown ground beef until cooked through.  Top with M.O.A.B. Feast Mode seasoning to taste.
2.  Cook rice in water in a rice cooker until done.
3.  Chop lettuce, cucumber and radishes and combine for the salad portion.
4.  Layer salad, rice, beef, cheese and sauce!
Enjoy!
By Lindsey Mathews
Intstagram: https://www.instagram.com/trainerlindsey/
Training: https://linktr.ee/lindseymathews
---