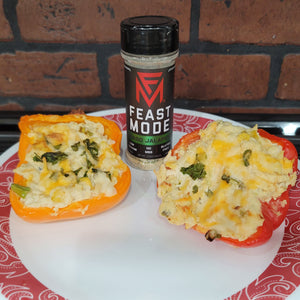 Lisa's Chicken Stuffed Peppers
Green Chile Chicken Stuffed Peppers
Ingredients:
4 red bell peppers (or any color you prefer)

2 cups cooked and shredded chicken

1 8 oz package light cream cheese, room temperature

1 cup shredded Colby jack cheese (plus a little extra for the top)

1/2 can of corn

2  4oz. cans diced green chilies

2 TBSP feast mode Asiago Jalapeño

1/2 teaspoon garlic powder

1/2 squeezed lime

Fresh chopped cilantro and or green onion (optional)
Instructions:
Preheat oven to 350 degrees. Spray a large 9"x13" baking pan with non-stick cooking spray and set aside.
Slice each pepper in half and remove the seeds. Set each pepper half in the prepared baking pan.
In a large bowl, mix together chicken, corn, cream cheese, Colby jack cheese, green chiles, feast mode asiago jalapeño seasoning, garlic powder and squeezed lime. Scoop mix into each pepper. Top with cilantro and or green onion and a little more shredded cheese. 
Cover pan with aluminum foil and bake for 40-45 minutes.
Take foil off and bake another 10 min or until cheese is a little crispy.
Remove from oven and serve.
---